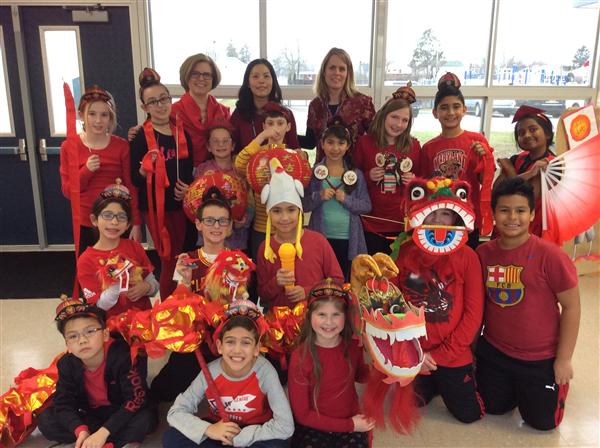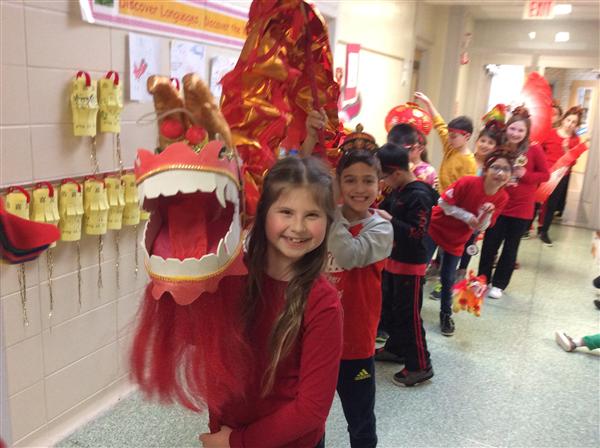 Chinese Lunar New Year at Pasadena Elementary School
At Pasadena Elementary school, students worked diligently to prepare for celebrating the Year of the Rooster. Each grade embarked on different tasks. For instance, first graders explored the twelve zodiac animals and made hats featuring them. They proudly wore them at the parade. Second and third graders learned the Chinese character "rooster" (雞) and created cultural decorations for the parade. Fourth graders learned more about Lunar New Year celebrations and made lanterns to display at the parade. All grades learned the expression "gong xi fa cai" to wish each other good fortune, and to sing the " Gong Xi Gong Xi " song to celebrate Chinese Lunar New Year. The parade was a huge success – students marched with the lion through the halls bringing much enthusiasm and joy to other classmates.

The activities to celebrate the Chinese Lunar New Year met some of the national learning standards for foreign languages, as outlined by the American Council on Teaching Foreign Languages (ACTFL). Many thanks to the teachers, principals and students who made this year's celebration such an enormous success!