Return to Headlines
Superintendent's Highlight of the Week: March 3, 2017
Superintendent's Highlight of the Week
March 3, 2017
Peter Pappas entered this season with one goal in mind…to win an elusive New York State wrestling title. This past weekend Peter achieved this goal with a dominant performance and became the first wrestler in POB history to be crowned 152-pound STATE CHAMPION. During the State wrestling tournament Peter crushed his opponent with his skillful moves and did not allow him to score a single point!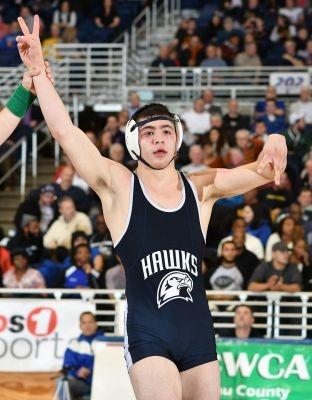 Peter Pappas finished his senior season with an undefeated record of 40-0. As a result of his outstanding achievements, he was recently named to the USA Wrestling All-American team.
Pappas finished his Plainview-Old Bethpage wrestling career with an amazing record of 181-10. In addition to his State title, Peter has won two Nassau County Wrestling titles (which has never been done in school history). He has also been named to the All-State team three times and the All-County team twice. Pappas would not have achieved this level of greatness without the support from his family, teammates and his dedicated coach Mike Doria. Peter is on his way to Division I powerhouse Edinboro University. We know that he will carry the tradition of POB excellence and continue to make us proud throughout his collegiate experience. Great happens here!!!!!