Welcome to 5th & 6th Grade Band
Great Job in the Concert!!!!
Information
Instruments
The following instruments are not provided by the school and should be rented or purchased from a store of your choosing.
Flute
Clarinet
Trumpet
Alto Saxophone
Percussion/Drums: will need a set of sticks and a drum pad with stand for home practice
The following instruments may be rented from the school for a fee of $50 payable to POBCSD
2 instruments are provided (one for home one for school) as they are too large to carry on the bus.
Bass Clarinet
Tenor Saxophone
Baritone Saxophone
French Horn
Trombone
Baritone Horn
Tuba
District rental forms will be passed out at the band meetings.
Instruments will be passed out at the 1st actual rehearsal with instruments on September 19th. Rental forms with payment should be turned in on September 19th.
Band Music/Book/Scale Sheets
The Band Music will be passed out on September 19th – period 9
The Lesson Book and Scale Sheets will be passed out at the 1st instrumental lesson.
Supplies
A three ring binder is required to organize your band music.
Instrumental Lesson Schedule Marking Period 4
Please write your lesson times in your agenda.
click to view
click to view
Note Reading/Fingerings Flash Cards
Clefs/Rhythms Flash Cards
*Listening Assignment*
(click to listen)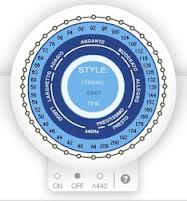 An online metronome ideal for quick and easy use while practicing music, this music tool helps with your rhythm as well as tempo selections.