POBMS
Library Media Center!
Library Media Specialist B.A., M.L.S.
District Coordinator of Library Services
April is National Poetry Month!
Open Mic Poetry Hour
Share your favorite poetry or original poem!
Thursday, April 30, Period 9
Celebrate with more poetry at the Library:
Push Pin Poetry
Poems-for-your-Pocket
Spine Poetry
Poet-tree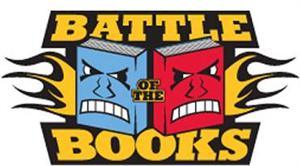 Informational meeting period 9 in the library
Either Tuesday, 4/28 OR Wednesday 4/29
The Battle of the Books Will Feature:
Maze Runner by James Dashner
The Giver by Lois Lowry
The Hunger Games by Suzanne Collins
The Fault in Our Stars by John Green
Book Nerd Group
Next Book Nerd Meeting April 21
Period 9
Battle of the Books
Coming soon...
**See Ms. Tellone for details
Need a Public Library Card? See Ms. Tellone!